CA Diplomas Awarded in 2022
CA Diplomas recognise those club members who have given outstanding service to croquet and have been active in Club or Federation affairs over a long period. The Diplomas have nothing to do with croquet prowess and everything to do with the help given to other members.
---
Lance Andrews - York CC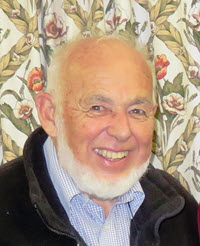 Lance Andrews
Lance greatly enjoyed home rules AC garden croquet as a young man and reconnected with the game at York CC after moving north. He quickly became an indispensable Club member, achieving mid-table respectability in his handicap and always happy to lead the way in entering Club competitions and playing league matches.
He trained as a Club-Level Coach, quickly establishing an enviable record of converting his trainees into full Club members. He gave long service to the Club committee and to the umbrella Association responsible for the lease and buildings. He was instrumental in getting a U3A group established at the Club lawns - now a thriving CA Club in its own right.
For two decades he has quietly undertaken a host of unglamorous behind-the-scenes work: installing steps for safe access to Lawn 4; taking on regular white lining duties; organising repainting work; putting in the hours at start-of-season setting-up days; installing a fine and substantial free-standing noticeboard; undertaking quantities of printing for the Club; repairing Clubhouse floorboards; being first to volunteer at drop-in Try Croquet afternoons; attending to plumbing problems; hosting winter lunches at his home with his wife Mary; playing bass guitar in the Club band… the list goes on.
Typical of his unwavering commitment to croquet has been his support of off-site advertising and recruitment sessions, not only helping during the events themselves, but always volunteering to load vehicles with equipment, lay out lawns, and, afterwards, clear up, load up again, and unload back at base.
Lance had a long and successful career as a BBC sound supervisor, latterly working freelance and running his own 100-title record label, Lammas Records. Even though health now prevents him getting to the Club, he maintains, in his own words, an 'avid' interest in Club affairs and Club members. Thank you, Lance, for everything!
Richard Carline - Sussex County CC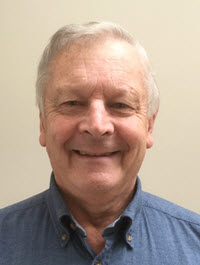 Richard Carline
Richard joined Sussex County Croquet Club in 2015 after being heavily involved in the start-up and development of Lodsworth Croquet Club. He quickly became involved in the Croquet Academy, qualifying as a coach in 2016 and he is now recognised as one of the leading GC coaches in the country. Particularly notable is his use of practice aids including video and a swing trainer he built. He has been Coaching Officer for the South East Federation since 2019 and has visited all areas of the region, running coaching sessions at clubs. Richard brings enormous enthusiasm to everything he does and this shows through in his coaching,
Richard is a GC Championship referee and was the referee in charge of the GC World Championship final at Southwick in 2019 when he was called on to the lawn frequently, dealing with all eventualities in a calm, friendly and reassuring manner.
Richard ran a high-quality building firm for many years and those skills have been put to good use at Southwick. He designed and led the construction of a new machine shed, running a large team of club members with skill and enthusiasm. He has been heavily involved in designs for a new or modified clubhouse.
Don Clay - Worcester Norton CC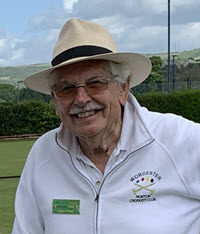 Don Clay
In 1974, Don invited five friends with lawns of variable sizes and shapes to take a partner each, in order to play croquet. Each season, ten matches were played, home and away, on Sunday mornings.
In 1980, Don and some of his fellow players established Worcester Croquet Club on a disused bowling green.
In 1982, the club members leased a piece of land in the abandoned Worcester Norton Barracks, having it levelled, drained and seeded at their own cost. By 1986 the club moved to their new Worcester Norton home and begin playing on their new lawns.
Don was intimately involved in all the planning, negotiating and organising related to this significant enterprise.
Over the years, Don has enthusiastically taken on most Club positions, including Chairperson, Secretary, Competition Secretary, Club Handicapper, as well as lawn mower, working party volunteer and Club coach. For years he went to the club every Wednesday evening, to coach anyone who turned up. He finally hung up his coaching hat last year, just before his 90th birthday.
Even now, Don is not only playing, but winning trophies too, including two last season.
He continues to represent Worcester Norton Club at both Intermediate and Federation level, although he prefers a single match in a day these days!
His long engagement with the SW Federation has made him well known at many of the other SW Federation clubs; always immaculately turned out and competitive to the last.
For 5 decades, Don has recruited countless converts to Croquet, including some now at other clubs. He encouraged his son Simon, his late wife Shirley and even his daughter-in-law Sarah to play, thus ensuring an ongoing dynasty of Clays at Worcester Norton Club for many years to come!
Jane Collier - Colchester CC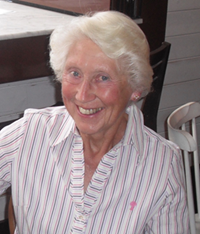 Jane Collier
Jane Collier joined Colchester Croquet club back in the early 2000s having previously been a keen tennis player. She soon became Secretary, but unfortunately, nobody can remember quite when she took over from the retiring Don Fullerton, which emphasises just how long she held the post before retiring as Secretary at the start of the 2022 season. Jane is so committed to the club that she remains on the committee.
As well as secretarial duties, over the years Jane has also helped with other jobs such as tournament lunches, cleaning of the clubhouse, and running bridge drives which provided valuable extra income for the club.
Jane enjoys the competitive side of both codes of the game, playing local and club AC tournaments as well as B-level and ladies' GC events. She has helped many new members and beginners to start to learn to play and has inspired some to play competitively. She especially encouraged women to play with her in tournaments, notably up in Ripon, helping them progress further than they otherwise would have thanks to all the great tournament experiences.
Jane is well worthy of recognition, Colchester Croquet club is grateful for her time, effort, and dedication for over 15 years and we think that the award of a CA diploma would be a fitting recognition. Thank you Jane.
Ray & Caroline Cosham - Compton CC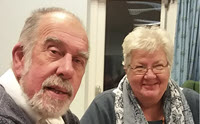 Ray & Caroline Cosham
Caroline and Ray became members in 2012. Ray began his long association with running the bar when he joined the bar sub-committee in 2013. But Caroline and Ray really came to the fore in 2015 for their work on the clubhouse whose deteriorating condition had been causing concern for many years. Ambitious plans to build a brand-new clubhouse had been developed but proved to be beyond the club's resources. Caroline and Ray volunteered to take on the responsibility for the existing building and embarked on their 'Renovate and Repair' programme with enviable enthusiasm, the success of which is evident for all to see. Caroline secured grants and planning permission; Ray oversaw the work. The changing rooms were restructured, new toilets and a purpose-built bar installed, windows replaced along the front of the building and a myriad of small improvements in other areas. But all was not plain sailing: the planning process proved extremely tortuous, especially regarding the appearance of windows and cladding; and in January 2019 Ray was faced with the aftermath of a shocking break-in. Vandals - never apprehended - had smashed their way in, scattered anything and everything they could lay their hands on and randomly sprayed most of the newly decorated interior walls with blue paint - a heartbreaking scene. Clearing up was a major exercise and the whole incident triggered a requirement for increased security.
More recently Caroline stepped in at short notice to take on the chairmanship when the incumbent Ann Smiley died unexpectedly in 2020, a very trying period during the pandemic. Ray took over running the twice-monthly internal golf croquet competitions when the previous organiser retired. Between them, Caroline and Ray have devoted a huge amount of time and effort which has benefitted members and visitors alike.
Tony Curson - Bath CC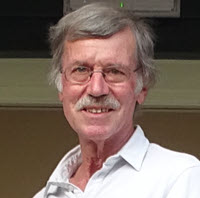 Tony Curson
On joining Bath CC Tony immediately threw himself into positively engaging in the wider areas of club life. He has a problem-solving attitude and is forward-thinking, anticipating situations before others, and is on many occasions the first to be abreast of and share national and regional croquet news.
He is a skilful croquet player, taking his game very seriously, and his interest in the GC area of the game over many years has not only led to his being a competent team captain, but to capably coach and encourage new and existing members and take on the role of Tournament Manager for both internal and CA events. Whilst he would probably agree GC is his main passion, he quite ably turns his hand to the game of AC and has supported the club teams for league matches.
Being an 'all-rounder' Tony is also a valuable member of the lawns team, again when attention to detail is needed, measuring out lawns and hoop-setting and he can often be seen carrying out running repairs when we have had visits from the abundant wildlife frequenting our lawns. His technical abilities also extend to IT and he actively promotes the club to the wider community by routinely updating our website and ensuring we have a regular presence in the local press. He also produces the club newsletter.
Tony has willingly given his time by serving as a valued and respected committee member, and his expertise was vital when working through the legal requirements and planning regulations in preparation for the replacement of facilities alongside our lawns. He is meticulous in his preparation, his attention to detail is exemplary, and his love of croquet is infectious. Every Club needs a 'Tony'!
Nichola Davey - Palace CC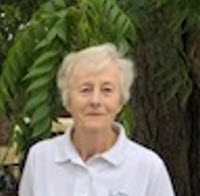 Nichola Davey
Nicky has been Palace Croquet Club Secretary for over 15 years. I (Jonathan Rendel) took over from her in 2020 to find a club well organised with events and managed to use her methods to steer the club through the Covid restrictions.
Nicky joined the club after a taster session in 2003. She became one of a group that migrated from these sessions to a formal course on Association Croquet run by the late Ian Telford.
The Palace croquet Club is unusual in that it has the use of the delightful lawns that front the Bishops Palace here in Wells, Somerset during the Palace gardens summer season.
Play is watched by thousands of tourists every year prompting all kinds of questions about the sport. The Palace Club is considered by the Palace management team to be a tourist attraction and the white-clad players on a summer's day are always commented on by visitors.
When Nicky joined there was little contact between Association and Golf players. Nicky quickly became adept at both, competing regularly in the league and friendly matches.
In 2007 Nicky took over as secretary, making all arrangements for play and organising matches with other groups. She gave unstinting support to the Chairman and committee, succeeded in reviving the club, bring both Association and Golf groups together to make a very harmonious club.
Bishop Peter became our president and opened the croquet season every year.
Nicky's efforts have ensured the club has gone from strength to strength, gathering new members and playing opposing sides in the South West on a regular basis. It is fair to say that without Nicky's cheerful energy the Palace Croquet Club might well have not survived.
Ian Draper - Nottingham CC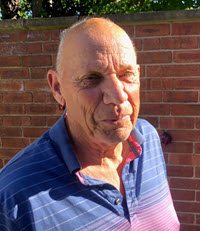 Ian Draper
Since joining Nottingham Croquet Club in 2012, Ian has distinguished himself not only as a fine player (reaching an AC handicap of 0.5) but most notably through dedicating his time and talents to some challenging, innovative and strategic areas, achieving remarkable success.
The club's range of activities for school children - including an annual programme of outreach into schools, Mallet Sports Summer Schools, after-school sessions at the club, and opportunities for juniors to play against other clubs - are all largely thanks to Ian's vision and energy and dogged persistence when at times things have seemed discouraging. Having juniors changes the feel of the club for the better. The beneficial effect on our younger members is apparent and sometimes transformative. The reputational gains among teachers, parents, local communities, policymakers and the wider croquet world are testament to the vision and dedication of Ian, supported by a loyal and committed group of club volunteers.
For some years Ian has led the club's recruitment and retention work, engaging strong and disparate talents and personalities to create a highly effective and increasingly mutually supportive team. Together they attract and welcome record numbers of new members to the club, coordinate coaching at all levels of the game, especially nurturing beginners, and provide a wide range of activities to facilitate learning, skills development, engagement, enjoyment and club cohesion. The club's regular and highly successful "Alternate Stroke Doubles" and "Club Social Doubles" afternoons are of Ian's making.
In these areas, Ian is never afraid to innovate, share learnings and adapt accordingly.
Ian notices how new members develop their skills, integrate into the club and affect its balance and ambience, and he contributes astute observations and helpful strategic suggestions.
Nottingham Croquet club therefore heartily commends Ian for the CA Diploma.
Marian & Philip Harris - Sidmouth CC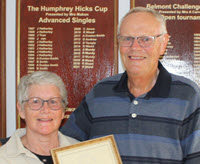 Marian & Philip Harris
Since joining the Club in 2007 Marian and Philip have given unstintingly of their time. Marian very quickly joined the committee becoming the Social Secretary and the minutes stand testament to her major involvement in all aspects of making the Club a sociable venue for all. She then took over membership administration from ensuring new members were fully briefed to ensuring completion of CASC participation cards.
Philip was also quick to get involved. Initially helping to ready the courts for tournaments generally and then setting hoops. He willingly took on a SWF league team as his game developed in both AC and GC and became a Club Handicapper.
The Harris' worked together on the social side, then moved into internal tournament organisation and administration and the annual, task of getting 30+ trophies engraved.
Marian's grip failed her and she had to give up playing croquet so, naturally, Philip took on the Membership role in 2018. This in addition to being a dependable hoop-setter and ready source of assistance in all aspects of the Club. Perhaps his main contribution has been his cheerful willingness to coach newcomers from 'Taster Day' to competent players. Outside of the annual recruitment drive, Philip has given up his time all too frequently to take on ad hoc new members, always with genuine enthusiasm and to the club's benefit.
Over the years Philip has been an instigator of ideas for improvement; a 'keeper of the diary' avoiding date clashes and an always reliable, knowledgeable sounding board. Whatever the event requiring committee input Philip is there; first to arrive and last to leave.
The foregoing can only give a flavour of the time, effort and dedication put into the Club by Marian and Philip but they more than merit recognition.
Hester Henebury - Bath CC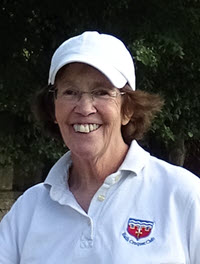 Hester Henebury
Hester first took up croquet in 2008 engaging in the introductory lessons for Association Croquet offered at Bath. She settled into the game very quickly and was soon captain of Bath's B-league team, moving rapidly to improve her handicap to play in the Intermediate and then Federation leagues.
But she wanted others to get the same enjoyment from croquet that she did. She was soon instrumental in running the club's annual recruitment drive, developing the format as circumstances warranted. However, she didn't leave it at that. Once newcomers had joined, she was conscious that those new members required support to feel fully involved and developed a buddying ethos within the club. Her commitment to coaching was such that she took the necessary Croquet Association course and obtained her 'Club coach' badge.
She also regularly volunteers to run tournaments and always does so with considerable preparation and hence efficiency on the day.
Her involvement in the fun and social aspect of croquet has led her to launch 'tea and croquet' in the summer, and 'mince pies and racing croquet' in December, which have become part of the club's annual fixtures.
It is a testament to her enthusiasm that she never has any difficulties in getting volunteers to assist her in all the various activities that she has organised.
In addition to all of this, she serves as a very able, and valued, Committee Secretary producing comprehensive minutes within days of the meetings and undertaking a host of admin duties associated with the role, all of which take time and require a well-organised mind.
Her contribution to the club and croquet as a whole has been invaluable and we would wish for her achievements to be recognised.
Linda Hicks - Budleigh Salterton CC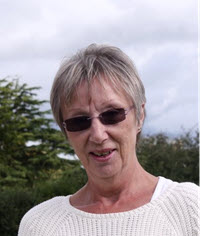 Linda Hicks
Linda Hicks is a longstanding member of the Club who has given outstanding service to croquet as a very active volunteer who has contributed to the club across a wide number of areas including
The overall management of internal club play,
The production of the Club's internal magazine
Training and coaching of new members
Applying software analytical skills to evaluate and customise our online membership system and lawn booking facility
Linda organises all the club's Internal competitions providing competitive opportunities across all handicap levels and in all codes of play, appointing competent managers for all events, publishing guidance notes and organising the communication of the events and results.
During our Winter season, Linda organises Ladder competitions, and a number of one-day 'pop-up' tournaments arranged at short notice to take advantage of good weather. These are much appreciated and are often oversubscribed.
The management of all our weekly roll-ups is delivered by Linda managing the GC events herself with others appointed to manage the AC and Short Croquet events.
The club's magazine In the Loop is produced by Linda, who collates all the content, acts in an editorial role, takes responsibility for layout and design and produces the final copy.
Linda has been a constant and key support member of the team, now led by Robert Moss, which introduces and trains new members into the club.
Both as a CA-qualified GC referee and a manager Linda is respected throughout the club. She is undoubtedly a true club stalwart, never complaining, always positive and ready to help. Her support has been invaluable, and her contribution to Club and General Committee work in particular is widely appreciated across the Club
Helena Jansson - Phyllis Court CC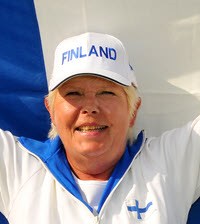 Helena Jansson
Helena Jansson has been an enthusiastic and popular member of the Phyllis Court Croquet Club for the last 15 years and has contributed enormously to the increased profile and the friendly atmosphere that exists at the Croquet Association's largest club by membership.
Her major contribution to club life has been with coaching where, for the past dozen or more years she has trained a total in excess of 250 new players, who all attended a beginner's course of four two-hour classes in groups of two or four.
This huge commitment would surely be meritorious enough to warrant the award of a CA Diploma alone, but is the additional hidden detail of Helena's super friendly welcome, backed up by her seemingly endless bubbly encouragement of particularly the weaker individuals, that really sets Helena apart.
That so many of her students have stuck with croquet after her classes is testament to the enthusiasm that she instilled in them at their introduction.
Helena has been a very prominent club member almost from the start of her long membership and she even joined the Club committee in only her second year, taking on the not inconsiderable role of social events coordinator.
In wider croquet circles, Helena has taken the name of Phyllis Court Croquet Club around the country, and indeed the world, as a very active tournament circuit player.
She played in two World Championships and one Women's World Championship representing Finland, giving croquet a presence and doubtless heightening the awareness of croquet in her native country.
For all these reasons, together with her infectious enthusiasm for the sport, Helena Jansson is truly deserving of the award of this Croquet Association Diploma.
Roger Jenkins - Bristol CC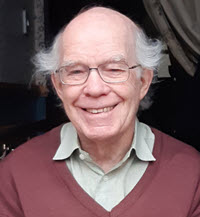 Roger Jenkins
Roger has now clocked up forty years' membership of the Bristol Croquet Club. He won the Beginners' Competition in 1982 (beating a young Mark Suter) and made quick progress in becoming a minus handicap AC player, representing the Club at every level and every opportunity. He also became one of the Club stalwarts. He led the team that built the first phase of our current clubhouse, and has served on Committee for decades in various roles, including Chairman.
Roger's playing career was suddenly cut short through paralysis, but he has continued to contribute to the fullest extent that he is able; as Deputy Chairman, and Match Secretary for the past thirteen years. He is ever-willing to turn up to observe and critique a game, when his analysis is penetrating - and not for the faint-hearted. He will always attend our Club's AC Tournaments, where he shows that his appetite for the game, and indeed his appetite, are both undiminished.
Mike Pattison - Roehampton CC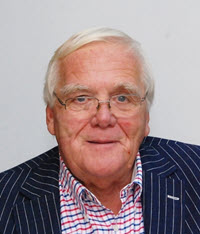 Mike Pattison
Mike has been Croquet Captain since November 2017 and is our longest continuously serving captain. He has worked tirelessly in support of croquet. He has been a driving force in growing the size of the section from c.90 in 2019 to close to 200 in 2022. Initiatives steered by Mike include:
Organising a schedule of croquet club mornings and afternoons for GC, AC and 1-ball. New members to croquet are provided with an induction session by an experienced player.
Introducing an online lawns booking system, which has transformed the ease by which members can book lawns, as well as enabling improved utilisation of the lawns.
This year, establishing a comprehensive coaching programme, delivered by the Chiltern Academy.
Producing a fortnightly "Croquet Communique" as part of Roehampton's newsletter to members. Mike's text is informative, and humorous, with photos of events held. It both informs croquet members and importantly promotes croquet as a sport within the wider club membership.
Mike is a tireless supporter of our members when they are competing in CA events: attending both home and away events to cheer on the Roehampton team.
Importantly, within a multi-sports club, Mike liaises closely with club management and grounds staff to ensure croquet's needs are understood and properly considered in future planning.
As section Chairman (and a former captain) I know how hard Mike works on the section's behalf. He has gone above and beyond what could be reasonably expected of a volunteer and is a worthy recipient of the CA Diploma.
Dawn Piggott - Himley CC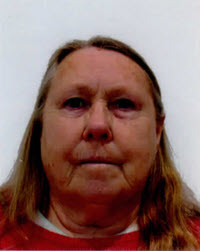 Dawn Piggott
Dawn joined Himley Croquet Club in 1999 and made rapid progress to a high standard whilst playing golf croquet.
In 2002 the Club Chairman died and the club Secretary resigned and went off to start another croquet club. By now croquet and the club had become a very important part of her life and offered herself as the new Chair and was duly elected. Dawn's enthusiasm and people skills persuaded a past Club Secretary to "redo the job". At the time many club members thought the continued existence of the club to be very much in doubt.
Early in her tenure, the owner of the club's three lawns (Dudley Council) threatened to put the lawns to another use. Dawn managed to persuade them otherwise and as part of the deal agreed that, on an annual basis, the club would introduce the game of croquet to 10 to 12-year-olds from a number of local schools.
The club team plays in the West Midlands Federation Golf Croquet League. Since only a few top players participated in the team's playing activities Dawn developed a network of social golf croquet "get-togethers" with other croquet clubs and give less able members the experience of playing at other clubs. These "friendlies" have ranged from 5 to 7 in number in recent years.
Dawn is currently the non-playing captain of the club's Golf Croquet Team - she arranges the fixtures, makes sure players are available, and provides refreshments for home matches. She is always present at every match (home and away).
She is also a leading light in such things as the "bring a non-playing friend" tournament, line marking rota management, internal tournament arrangements, out-of-season 10-pin bowling and fish and chip suppers. A tour de force.
Sandra Rowe - Compton CC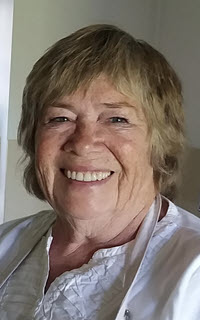 Sandra Rowe
Sandra joined Compton in 2010, since when she has found time, in addition to her busy life of other outside interests (from which she brings her organisational skills), to support the club in a number of important ways. Foremost amongst these has been her masterminding of the hosting and scheduling of visiting groups who come for an afternoon's or evening's play and enjoy tea or a fish and chip supper afterwards. Many of these groups return year after year and since 2014 and in this way she has raised thousands of pounds for club funds. Another of her regular tasks has been the compilation and constant updating of the club's annual calendar of events, every aspect of the club's activities neatly gathered in one place for reference. Having stepped in as club secretary for a year in 2012 Sandra has been an active member of the committee ever since. As well as her major roles above she is one of those who gets on and does things - such as when a notice or poster is required, and there is that deadly silence round the meeting table with everyone looking at their paperwork, hers is the response: "Oh, I can do that" and she does!
Linda Shaw - Nailsea CC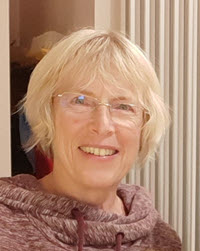 Linda Shaw
Linda took up croquet in 1999 when she had lessons at Nailsea. Since then, she has taken a full part in the life of the Club and has made valuable contributions in a variety of ways. Linda was Club Secretary for several years and followed that with a stint as Competitions Secretary. She has acted as Captain for several teams over the years. On the catering side, Linda has provided tournament lunches and cakes on a regular basis. Linda volunteered to be the Club Safeguarding Officer and has negotiated the Safeguarding requirements with vigour, ensuring that the Club satisfied all aspects of these, particularly in respect of its Junior members.
Linda has been a club coach for many years. She recently became a Grade 1 coach and has successfully introduced many beginners to the delights of croquet. Since Linda got married and moved to Bristol in 2017, she has shared her time between the Nailsea and Bristol Croquet Clubs and she continues to support both clubs, both on and off the lawns.
She is currently Membership Secretary of Bristol CC, has coached beginners there, and has been instrumental in the transformation of the Club website. Linda still travels to Nailsea to coach beginners and to take part in competitions and social occasions.
As well as taking on major roles, Linda is often the first to sign up, at both clubs, for the tedious jobs that no one else wants to do, including early morning or late evening tournament tasks.
On top of all this, Linda is Secretary of the South West Federation and produces bi-monthly copies of the Cygnet publication that is emailed to all players in the SWF.
In short, Linda gives a lot more than she takes from croquet and is a much valued and popular member at two clubs and a Federation!
Ian Theakstone - Fylde CC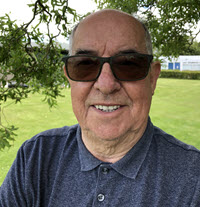 Ian Theakstone
Ian Theakstone became a member of Fylde croquet club in 2007 and has been an active member of the club for 15 years. He quickly became a competent player in both Association and Golf Croquet, has always made himself available for the teams and Captains one of our league teams. He has been a valued member of the Committee with particular interest in maintaining the lawns, white lining and making and fixing equipment.
His skills have provided a refurbished kitchen area, electrical facilities, seating, along with ball holders, corner pegs, corner flags and bisques (the design of which has been copied by many North West clubs). Any broken equipment is passed to Ian and fixed. At the end of the season when we all put our feet up Ian renovates the hoops and mallets.
Recently he has been instrumental in planning and developing a wildflower meadow in memory of our founder member Martin Bradshaw. He wrote an informative document to help us recognise and gain knowledge of the flowers that have grown. This has proved to be a delight to all who visit. Fylde does re-wilding! He often commented on the lack of birds, bees and other insects. They have all returned this year.
Thank you Ian.
Andrew Thomas - Sidmouth CC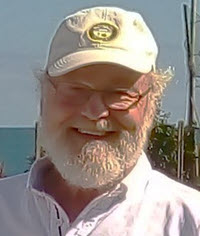 Andrew Thomas
A Club with a member like Andrew Thomas is fortunate indeed. He joined in 2013 the committee in 2014 and took on, almost immediately, the overall grounds member role in this three-Sport club. His opinion on grounds and equipment counts.
He researches thoroughly, saving thousands of pounds, significantly, for the alternative supplier of bespoke metal railings along Fortfield Terrace / Court 2 and the installation of safety netting around the cricket field. He is currently involved in replacing failing fencing alongside the croquet courts having made robust temporary repairs.
Specifically for Croquet, he was much involved in the refurbishment of our hut and the storage extension addition. He master-minded the replacement of surrounding ball stops with angle-iron posts and created a 'wild area' in which he arranged for an innovative rustic bench to be installed - members now want copies for their gardens.
Andrew is the man who is always there. Most mornings he sets the hoops as a matter of course and pre-tournament ensures the courts are in the best condition possible. Not only dealing with the employed groundsman, tact essential, but the man who has developed tools to enhance hoop setting to ensure they are perfectly set - firm and accurate in the courts he probably mowed.
To the club's and new members' benefit, he took it upon himself to refurbish donated mallets and oversee their sale. He has refurbished a steamer's bench, fitted lockers in the main club 'Mallet Room', maintained a small thatched legacy shelter, laid paviour; mounted an external clock; installed cycle racks and on the list goes. On top of that, he is an enthusiastic Club Coach!
He makes a huge input into the club but he has a weakness - if asked to help he always says 'Yes'.
Ralph Timms - Dunston CC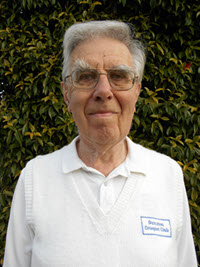 Ralph Timms
Dunston Croquet Club Chairman, Ralph Timms, started playing at Woodhall Spa in 2000. He started up the Branston U3A Club 14 years ago where he introduced golf croquet to members. He provided tuition to any new starters (like myself at that time). In 2019 Ralph set up Dunston Croquet Club from scratch, open to all, not just U3A members. Because the club shares a lawn with the local bowls club, Ralph worked with the CA Development Committee to trial Foxy Hoops and assisted others to establish new croquet clubs on bowls lawns. During the difficulties of COVID-19, he worked hard to ensure that we would be able to safely return to play as soon as it was possible.
He has been Treasurer for the FEMCC for 7 years. He set up the FEMCC website and wrote a database to manage the details of member clubs allowing easy reporting and emailing. The database also allows easy management of the leagues with simple entry of the results and immediate calculation of league positions as well as the ranking spreadsheet.
This year he has re-started the Lincs Local League to encourage less experienced players to try playing in matches.
New players are all given encouragement and tuition, and because of this many go on to participate and play well in League matches. He arranges local friendly matches with neighbouring teams, some of whom do not participate in League matches. Ralph's enthusiasm for the game means that he is always looking out for ways to introduce new members by holding regular open days, and his "hands-on" attitude means he can often be seen mowing the lawns and doing a spot of maintenance to the clubhouse.
Terry Vernazza - Tyneside CC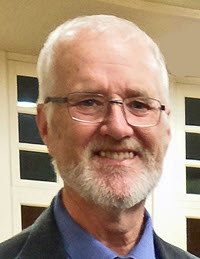 Terry Vernazza
Terry Vernazza joined TCC about ten years from Fylde CC near his previous home. At about that time Newcastle City Council, which owns the club's premises, told us that financial restraints prevented them from maintaining our lawns: the club in that respect was, henceforth, "on its own".
In these circumstances, Terry's experience in lawn care, and his practical and organising abilities played a crucial part in the club surviving a sudden considerable increase in its costs.
Terry, (with Derek Watts) one of our go-to lawn gurus, set about developing a strategy to keep our playing surfaces at the standard expected by contestants in the club's long-established annual CA-listed AC tournaments.
The park warden was engaged to cut the grass for the club as he had done for the Council. Terry's popularity and persuasive power assembled a rota of members to water the playing surfaces and a workforce to periodically tidy the grass surrounds and trim hedges. At his suggestion, the club now buys-in fertiliser and engages a company to annually aerate, top dress and, where necessary, repair the lawns.
Terry organises but also gets stuck in. He is at the centre of court lay-out and is often alone at the club spreading feed, marking lines, re-aligning hoops, watering and putting right the things only he had noticed.
As a low handicap AC player, Terry plays for the club in two local leagues and manages our team in one of them. He coaches beginners and helps less experienced members, he formerly sat on Tyneside's committee and represents the club to the local Federation.
After enforced neglect during Covid and a very dry summer, Terry's advice, leadership and hard work have contributed enormously to TCC's survival and we have no hesitation in recommending he be awarded a CA Diploma.
John Wakeford - Caversham CC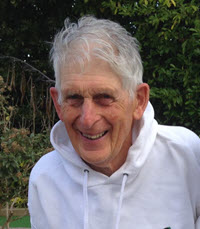 John Wakeford
John Wakeford took up croquet in his late 50s, whilst working at Lancaster University, on a half-sized irregular lawn on the edge of a cricket pitch. On relocating to Reading in 1998, John found Caversham Croquet Club, a small single-lawn club.
At Caversham, he became the club's unofficial AC coach, organising handicap cards for all five members, and was soon persuaded to join the committee as Development Officer. In 2005, thanks mostly to his efforts, fully paid-up membership had increased to eleven.
John has served continuously on the committee, in various roles, and has single-mindedly promoted the Club, and the game, at every opportunity through the local press, TV and Radio. Although primarily interested in playing AC, John oversaw the absorption into the club in 2011 of the Basildon Golf Croquet Club's 20 GC players.
During John's time on the committee, Caversham CC has grown in membership, and become more outward-looking, competing successfully in both AC and GC Southern Region leagues. Currently Secretary, John devotes much of his time to encouraging new members and GC players to take an interest in AC. Largely as a consequence of his promotional work the club is now stronger than it has ever been with 60 members, of whom 15 are playing AC regularly and three of whom now have single-figure handicaps.
John won his first competitive league match game, on the Isle of Wight, at the age of 83. He still cycles to the court every day, and is always available to help with mowing and general maintenance of the lawn and surrounds. He also holds a weekly session introducing AC basics for those members wanting to make a start in the game he loves so much.
Richard Whiting - Leicester CC
Richard Whiting
Richard has been a member of Leicester Croquet Club since 1985 and was elected to the Committee at its first AGM in April 1986 and became Chairman in May 1986 a position he still holds. This year marks his 36th year of service to the Club. Actively involved with all aspects of club management, maintenance and promotion, he has helped to steer the club through several relocations to our current home at Monks Rest Park and is integral to our Learn to Play and taster sessions, reaching out to many community groups and businesses.
First introduced to croquet at university some 40+ years ago, he plays both AC and GC and is currently a member of one of our East Midlands GC League teams. Richard has a wide knowledge of croquet and its' governance, encouraging new players to enjoy and improve their game and more seasoned players to participate in competitive play. His total commitment to the continued success and development of our club is and has been invaluable.
June & Paul Wolff - Blewbury CC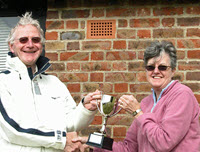 Paul & June Wolff
June and Paul Wolff have given outstandingly generous service to Blewbury Croquet Club (BCC), ever since helping to write the club's constitution when BCC was formed in 1993.
June was a founding Committee member. She served two spells (18 years total) as Membership Secretary. She was also club librarian/archivist, and social secretary - devising innovative fun (and fund-raising) events such as the successful Alice in Wonderland float for a Blewbury parade, complete with flamingo mallets. Her cooking helped BCC earn its reputation for the best lunches in the area. Despite resigning from the Committee in 2019, due to health issues that she sadly succumbed to earlier this year, June continued to manage the club's catering rota even last season.
Paul was Club Secretary from 2010-16. His achievements included securing funds to build 'The John' (named in remembrance of a club member) onto our basic clubhouse, and winning a legal dispute over a newly-acquired equipment shed. Such unglamorous but very necessary and diligent work contributed to Paul's 'Club Member of the Year' award in 2015; also recognising his enthusiasm for, and ability in, all versions of the sport - including one-ball (and now Short Croquet) as well as both AC and GC.
Paul became Chairman from 2018-21, notably gaining a Sport England grant that helped BCC to survive the pandemic. Since June's death, Paul has remained on the committee both as Head of Coaching and as Development Officer. The latter befits a man whose passion for the sport started on the club's original lawn; a terrain also used variously for football, cycling and scout camps: "There were about ten of us at a taster session. No matter it was a bitterly cold April evening. We were hooked".
The club has come a long way since then. Largely thanks to the Wolffs.