The Laws of Association Croquet
Association Croquet is the official name of the traditional game of croquet played throughout the world. The Laws are sometimes known as the International Laws.
If you are new to the sport, you may find the synopsis of the game or the simplified basic laws more appropriate.
---
The Laws of Association Croquet (7th Edition)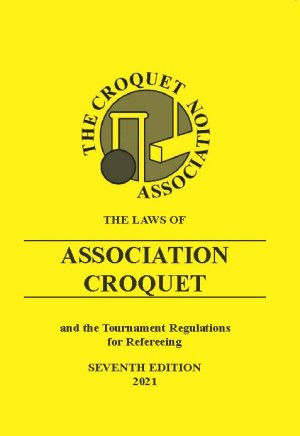 The 7th edition of the Laws of Association Croquet was approved by the World Croquet Federation (WCF) on 24th January 2021, following several years of drafting and consultation by its AC Laws Committee, and adopted on 30th January 2021 by The Croquet Association for use in this country from 1st March 2021.
An A6 Laws booklet is available for purchase from the Shop.
The Official Rulings on the Laws of Association Croquet (ORLAC), which are combined with a commentary on the laws, are available as HTML (linked to the Laws) at this link and as PDF files under WCF Resources below.
Please refer also to the Tournament Regulations.
Try your hand at the Laws quiz to test your knowledge.
WCF Resources
Previous Editions of the Laws
Previous versions of the laws, rulings and commentary are available in the laws archive.